Aratere
With three separate viewing decks the Aratere (Quick Path) is a great way to cross the Cook Strait and soak up the Marlborough Sounds!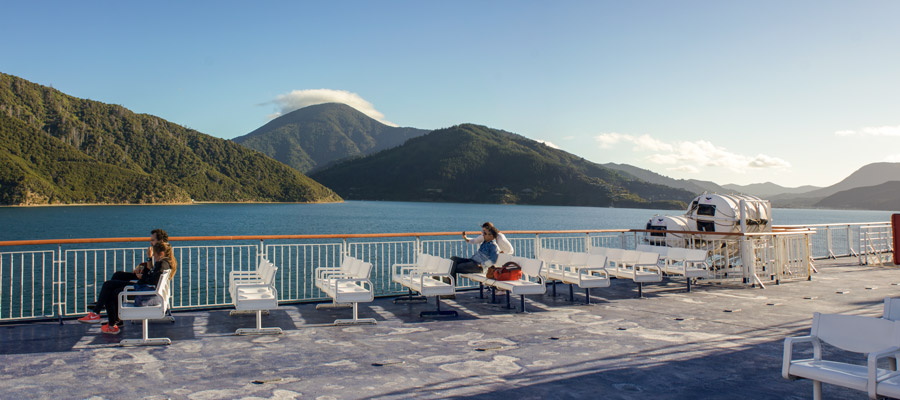 Areas on Aratere
With an eatery, bar, and dedicated lounge on Aratere, you'll never be short of entertainment and hospitality for your Cook Strait crossing!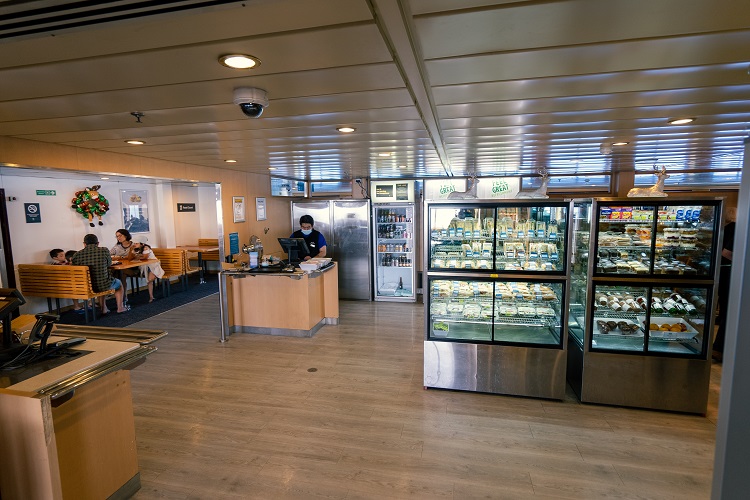 Food court
Experience this sea-side diner atmosphere, serving up delicious family friendly meals and stunning sea views. So why not treat yourself to some tasty cuisine while taking in the magnificent sights!
Bar
Bright, spacious and a selection of Aotearoa New Zealand's best wines and craft beers, the Aratere Bar is a great spot to catch some pub vibes, sport and enjoy the journey!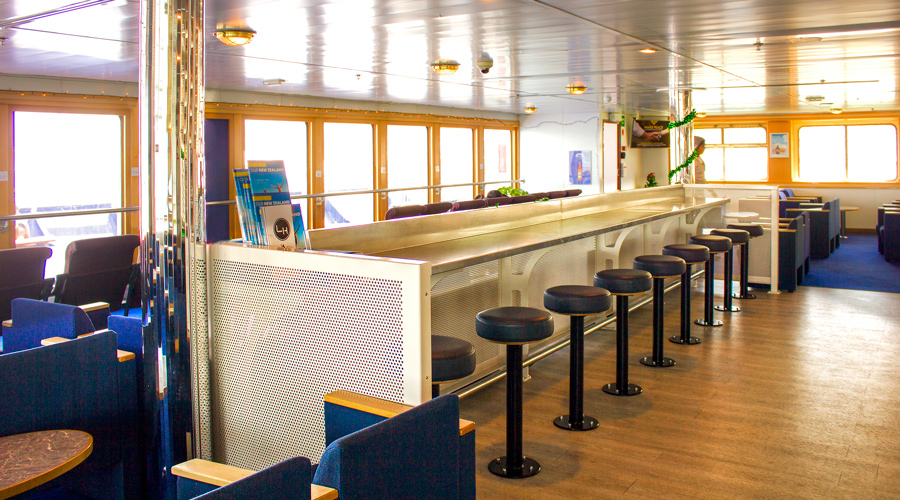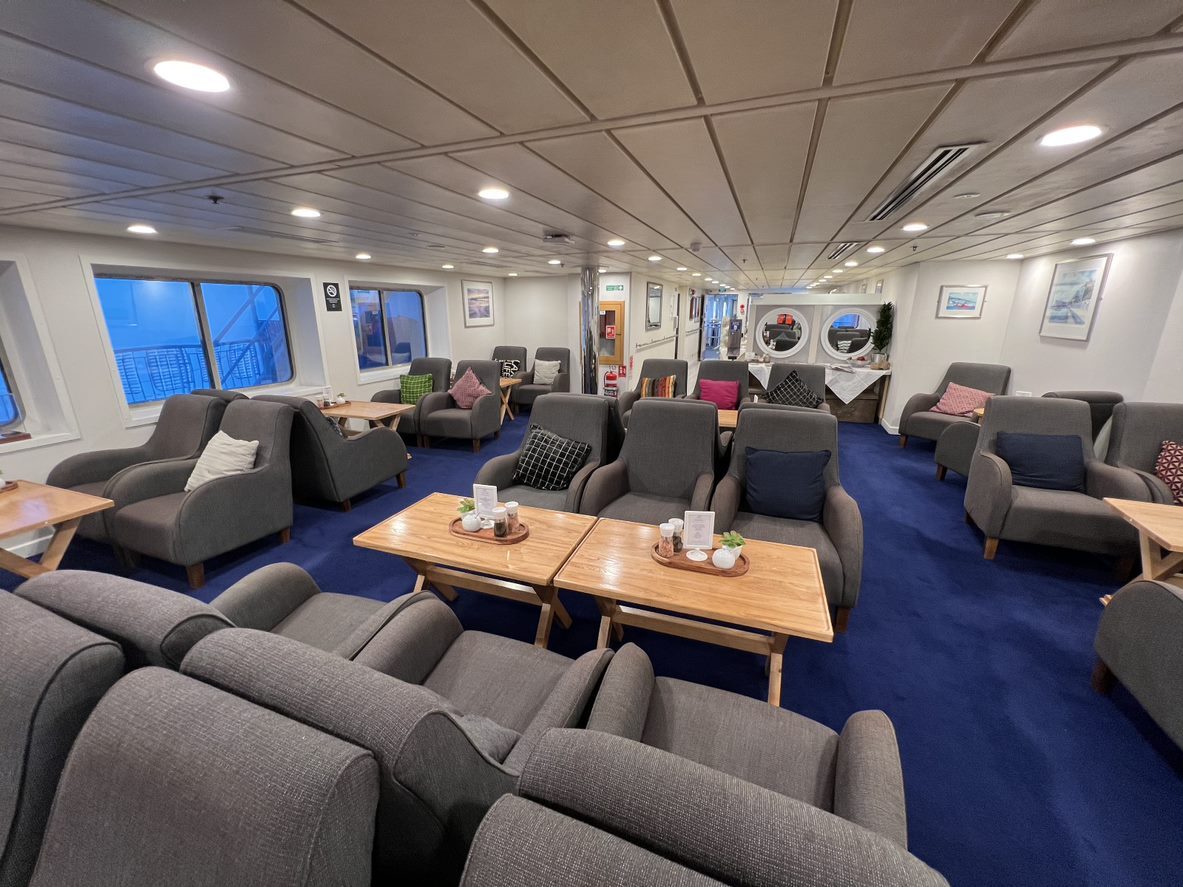 Premium Lounge
For a more refined journey across the Cook Strait, book a seat in our Interislander Premium Lounge.
Interislander Premium includes complimentary food and drink - including wines and beers - and provides a comfortable, quiet, child-free environment, with complimentary newspapers, magazines, and Sky television.
Interislander Premium is restricted to passengers 18 years and over. To reserve your place in the Interislander Premium Lounge, simply add it to your booking.
Scenic viewing areas
When it comes to sitting in the sun and soaking up the incredible New Zealand scenery, the outdoor spaces on Aratere cannot be beaten!
Aratere is the only Cook Strait ferry that has a viewing area at the bow and is located immediately outside the bar area.
For a more elevated view, you will find the viewing gantry located immediately above the bow viewing area.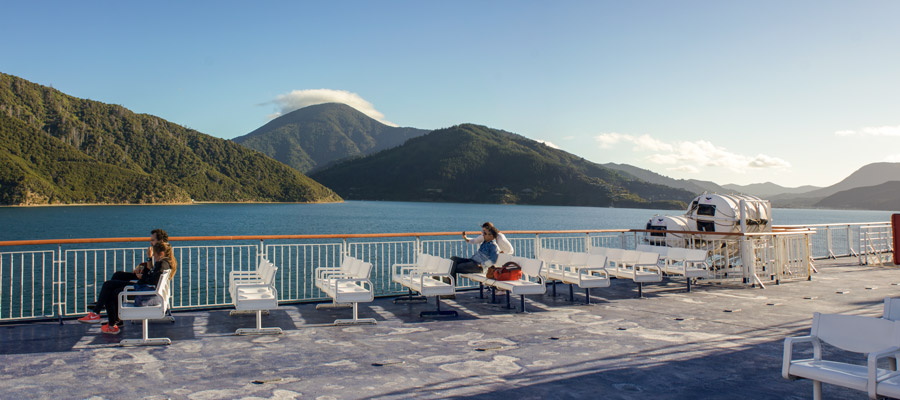 Other facilities
Here are some of the other facilities available on Aratere to ensure your journey is as comfortable as possible
Cinema
Aratere has a movie theatre playing a selection of the latest releases. You can purchase your movie ticket from the onboard gift shop.
Entertainment for Children
During the summer holidays we have children's entertainment to keep our littlest (or sometimes not so little) passengers busy for an hour or so.
Stay connected onboard with our free WiFi. We have upgraded our WiFi especially for this busy summer season. You will now get good coverage across Te Moana o Raukawakawa Cook Strait.
You can use up to 500MB which is enough to check your emails, read the latest news and post on social media. If you want to watch a movie or your favourite TV show, download it before you come onboard.
You can even access it in the terminals. You will need to set up an account the first time you use it.
Aratere has a dedicated outdoor smoking area near the middle of Deck 4. Smoking is not permitted anywhere else on the ship.
Aratere has a lift to take you from the car decks to the passenger area. There are hand rails and ramps onboard. There are accessible toilets - ask our crew for directions.