Kaitaki
Featuring two restaurants, two movie theatres, a bar, shop, lounges and a deck dedicated to children, the Kaitaki is a perfect fit for the whole family.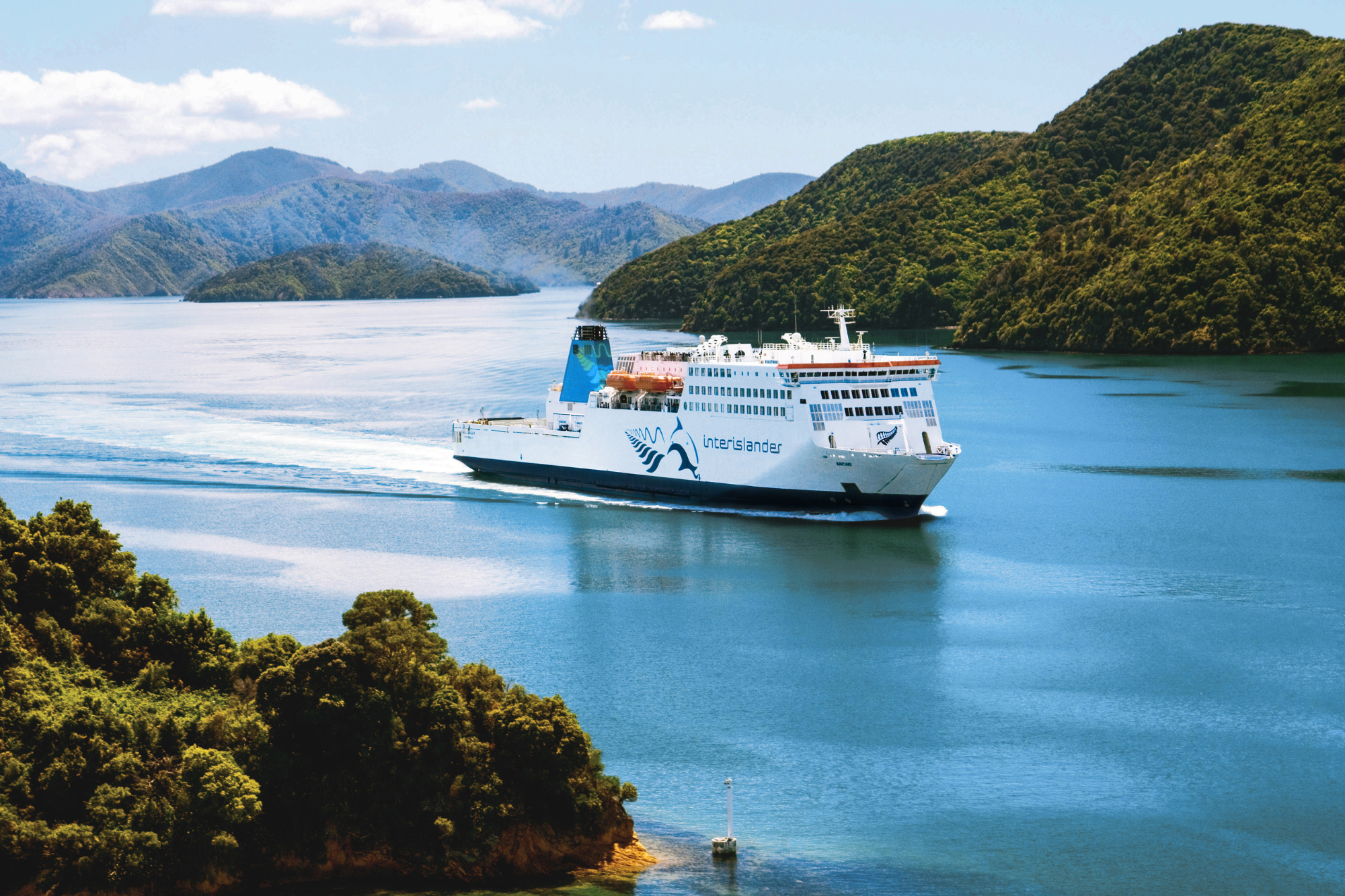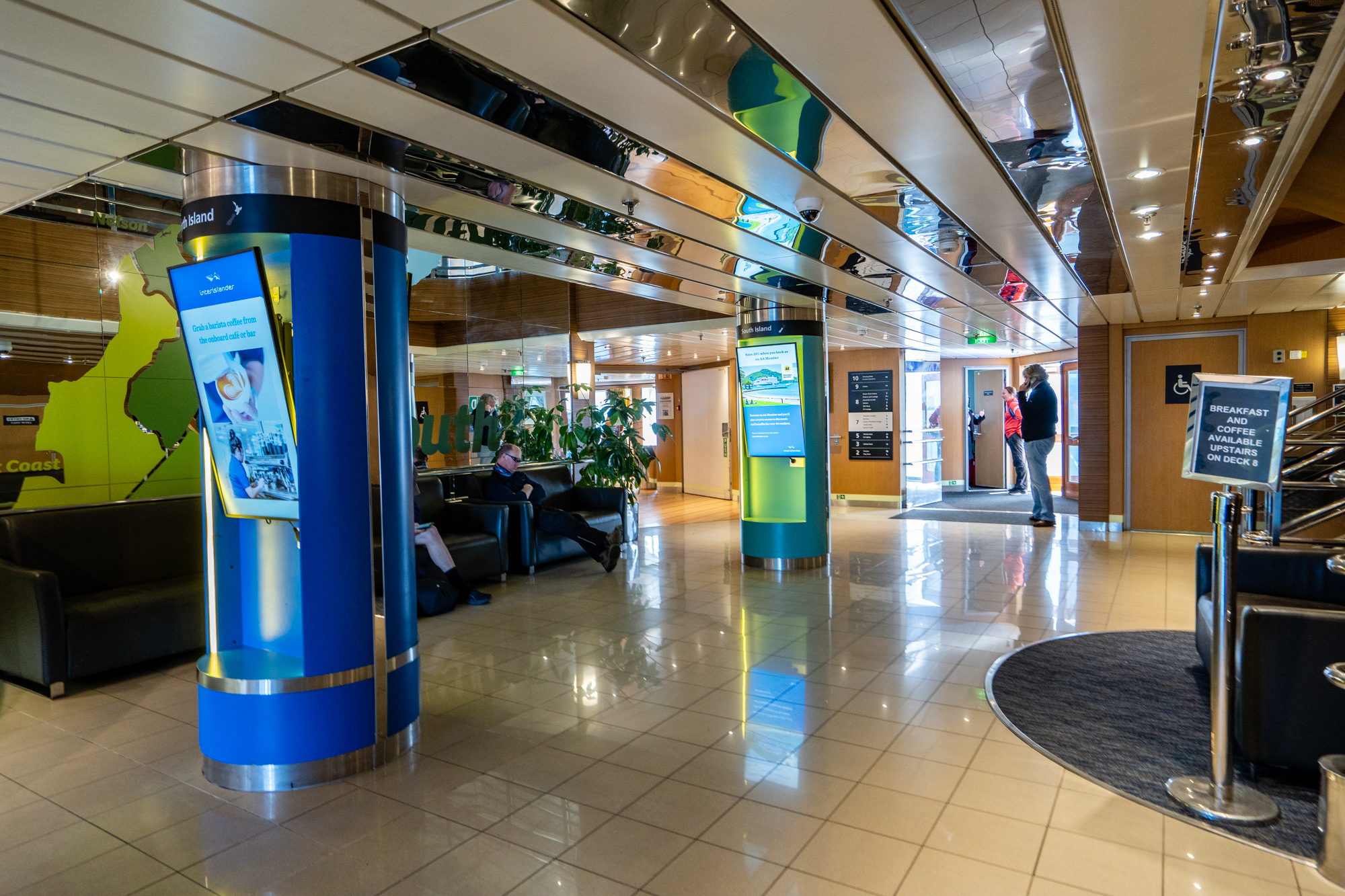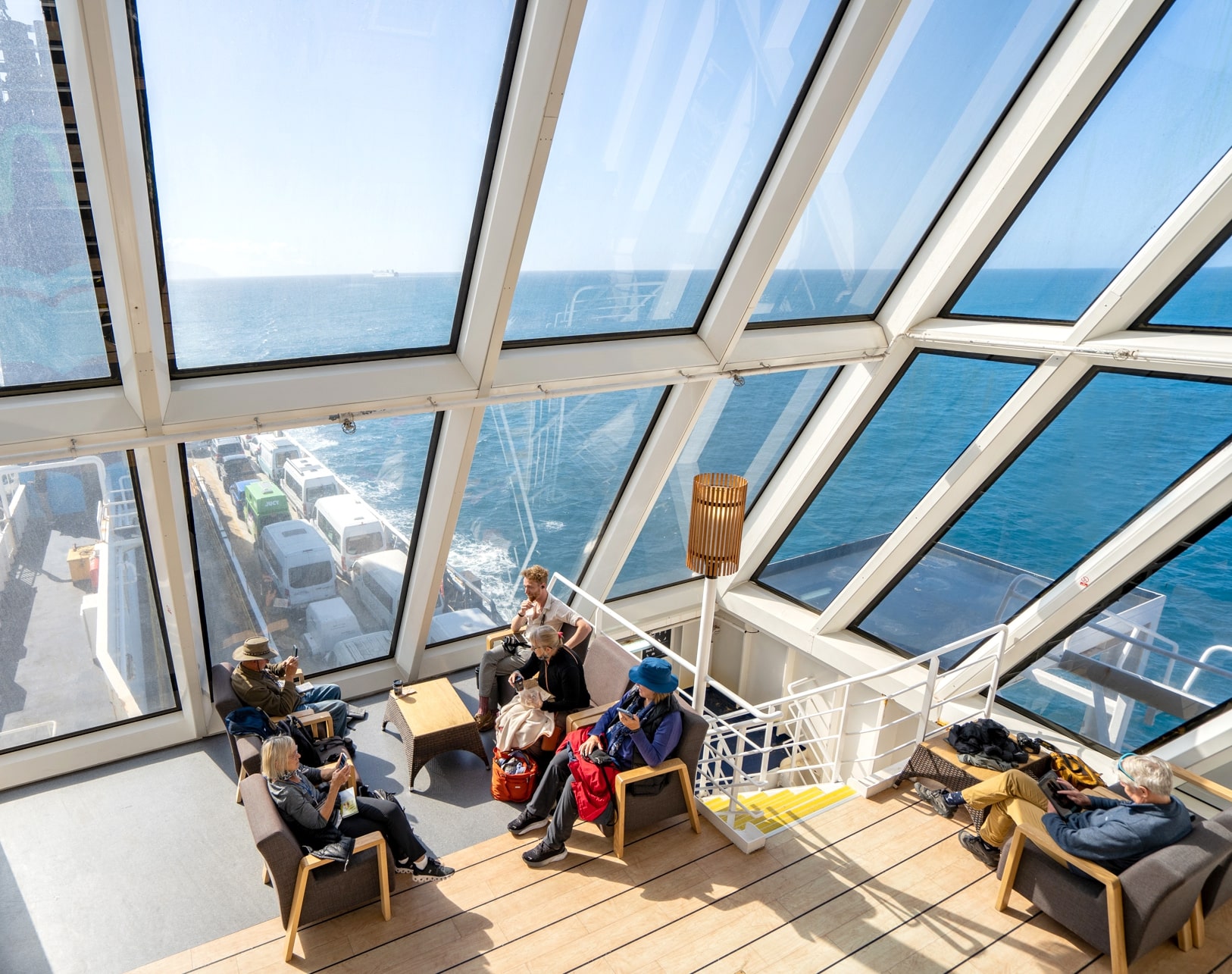 Kaitaki, meaning Guardian, can carry 1,350 passengers. Onboard, she features a huge Ocean View Eatery, Hector's Café, Island Bar and Café, a large soft play area for young children, a shop, cabins, nurseries, and three lounge choices - the Premium Lounge, a family-friendly Pelorus Jack Lounge, and the Queen Charlotte Lounge.
Kaitaki's most prominent features is the Lookout Lounge Atrium, which brings the scenery floating in through two floors of enormous windows!
Lounges
Kaitaki has three choices of lounges to travel in comfort across Cook Strait. In all you have a guaranteed seat and food options:
Pelorus Jack Lounge
A family-friendly lounge offering a light buffet, and tea and coffee. Children between 2 and 17 years are welcome.
Large windows, comfy dining chairs and tables ensure you get a great view of Wellington Harbour and the spectacular Marlborough Sounds.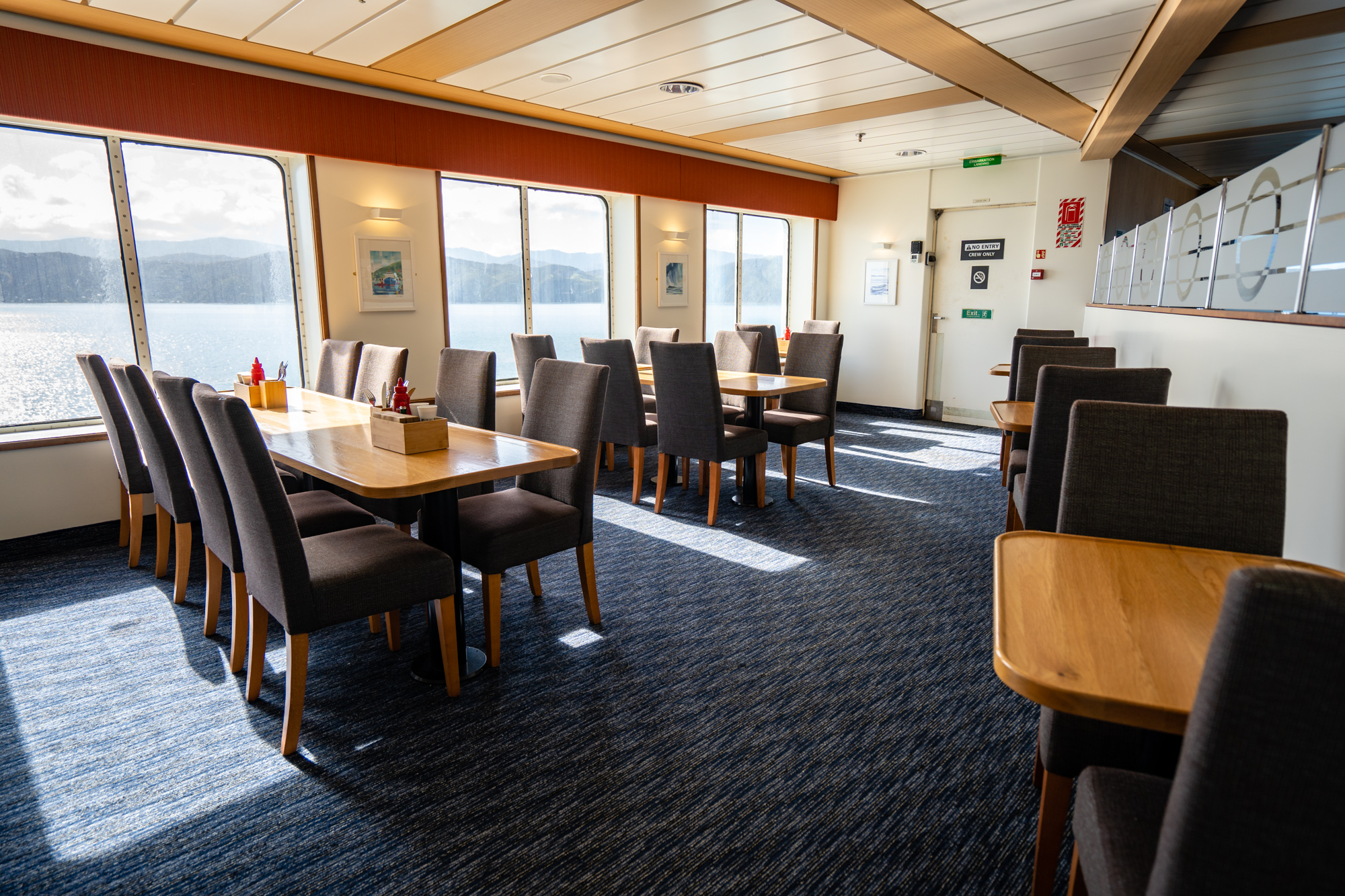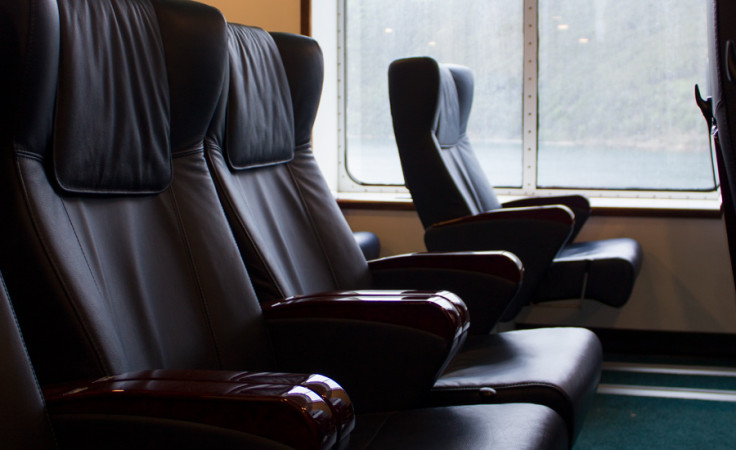 Queen Charlotte Lounge
A private child-free seating area on the port side next to Hector's cafe. Tickets to the Queen Charlotte Lounge are available from reception or online as you book. Access costs $30, including a $15 food voucher which can be used at any of Kaitaki's cafes or bars.
Premium Lounge
For a more refined journey across the Strait, book a seat in our Interislander Premium Lounge.
The Premium Lounge includes complimentary food and drink (including wine and beer) - and provides a comfortable, quiet, child-free environment, with complimentary newspapers, magazines, and Sky television.
Areas on Kaitaki
Kaitaki has a number of eateries, cafe's, bars, spaces for children, and a gift shop to enjoy onboard.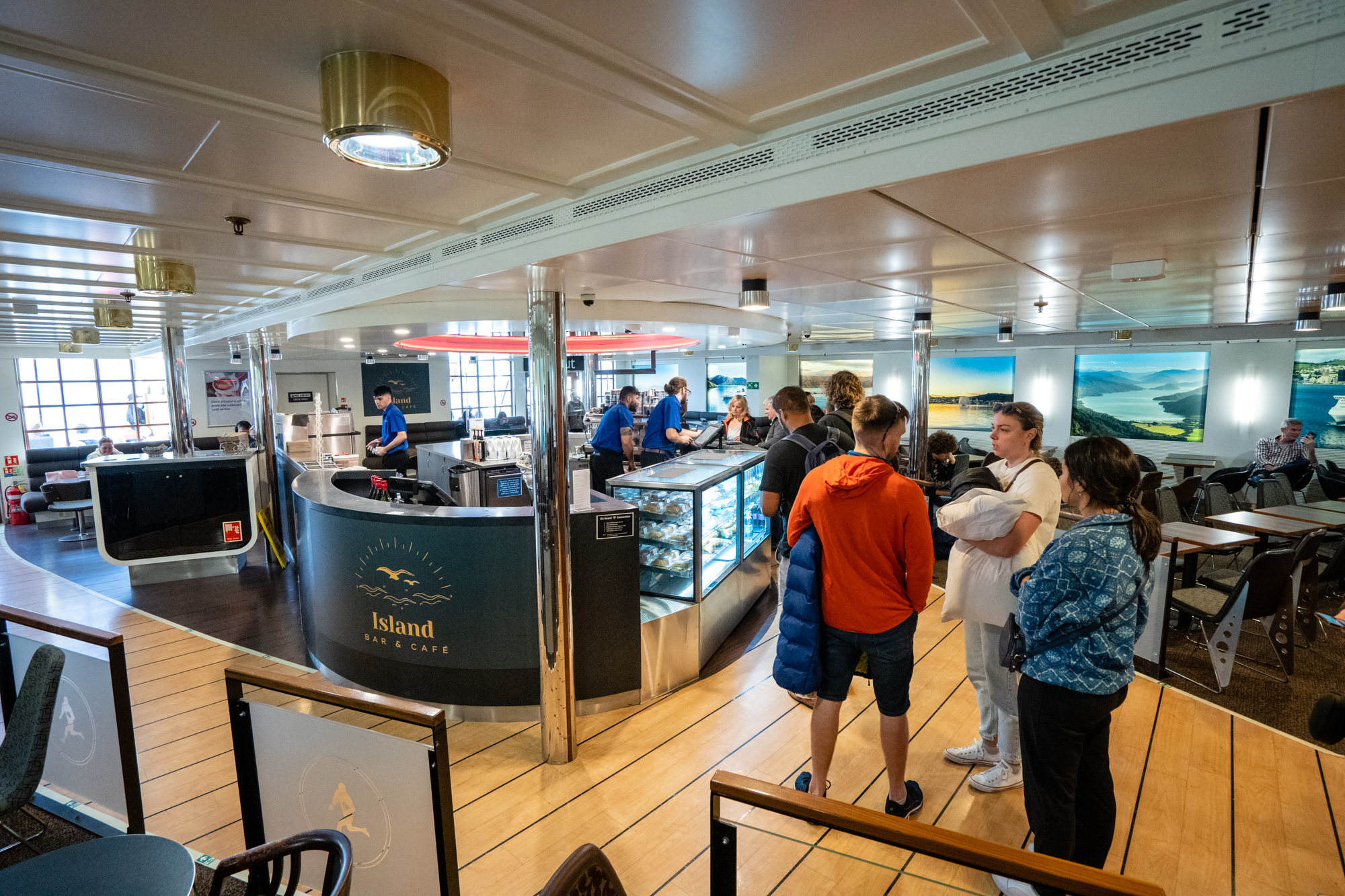 Island Bar & Café
If you are someone who likes to sit back and relax with a delicious local beer or wine, then the Island Bar & Cafe towards the rear of Deck 8 is the place for you to settle down. To keep you entertained, the Island Bar & Cafe has Sky Sport on TV and live bands playing on stage!
Ocean View Eatery
With excellent food, comfortable seats, stunning views and a relaxing environment, the Ocean View Eatery is a great place to settle down and enjoy the entire journey!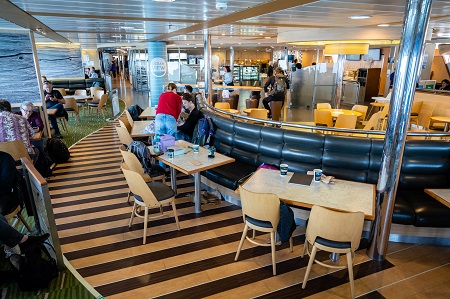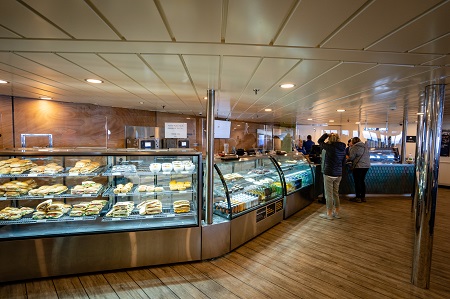 Hector's Café
Hector's Café is located on Deck 7 towards the front of the ship. Hector's is a modern, elegant café modelled on the classic Kiwi café-bar style. If you are hankering for a delicious slice of cake or an invigorating coffee, then Hector's is the place to go!
The Lookout Atrium
Beyond the Island Bar & Café on Deck 8 you will find an exit to the rear of the ship. This will lead you into a large atrium that is split across two levels and features floor to ceiling windows. There is quite simply no better place to sit and watch the world float by from!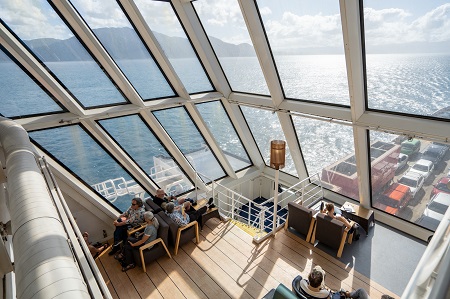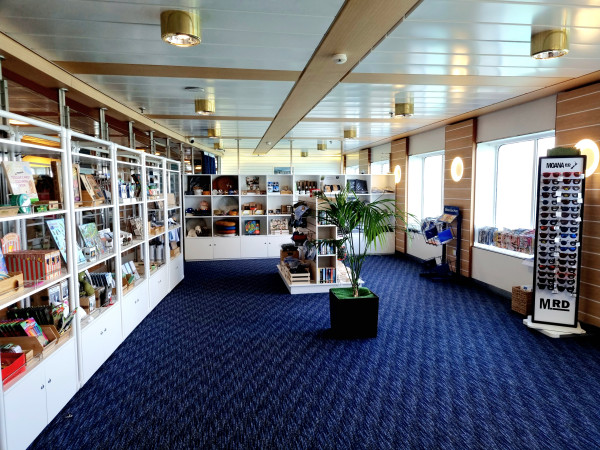 Gift Shop
Whether you need a a cool new t-shirt, or some entertainment for the kids, you will find it all in our gift shop on Deck 8. We also have a range of Interislander souvenirs and memorabilia available for purchase!
Outside Viewings Areas
Kaitaki has several large outdoor viewing areas around Deck 7 and a outdoor seating area on Deck 10. These areas are perfect for soaking up the spectacular views of the Marlborough Sounds - so make sure you bring a camera!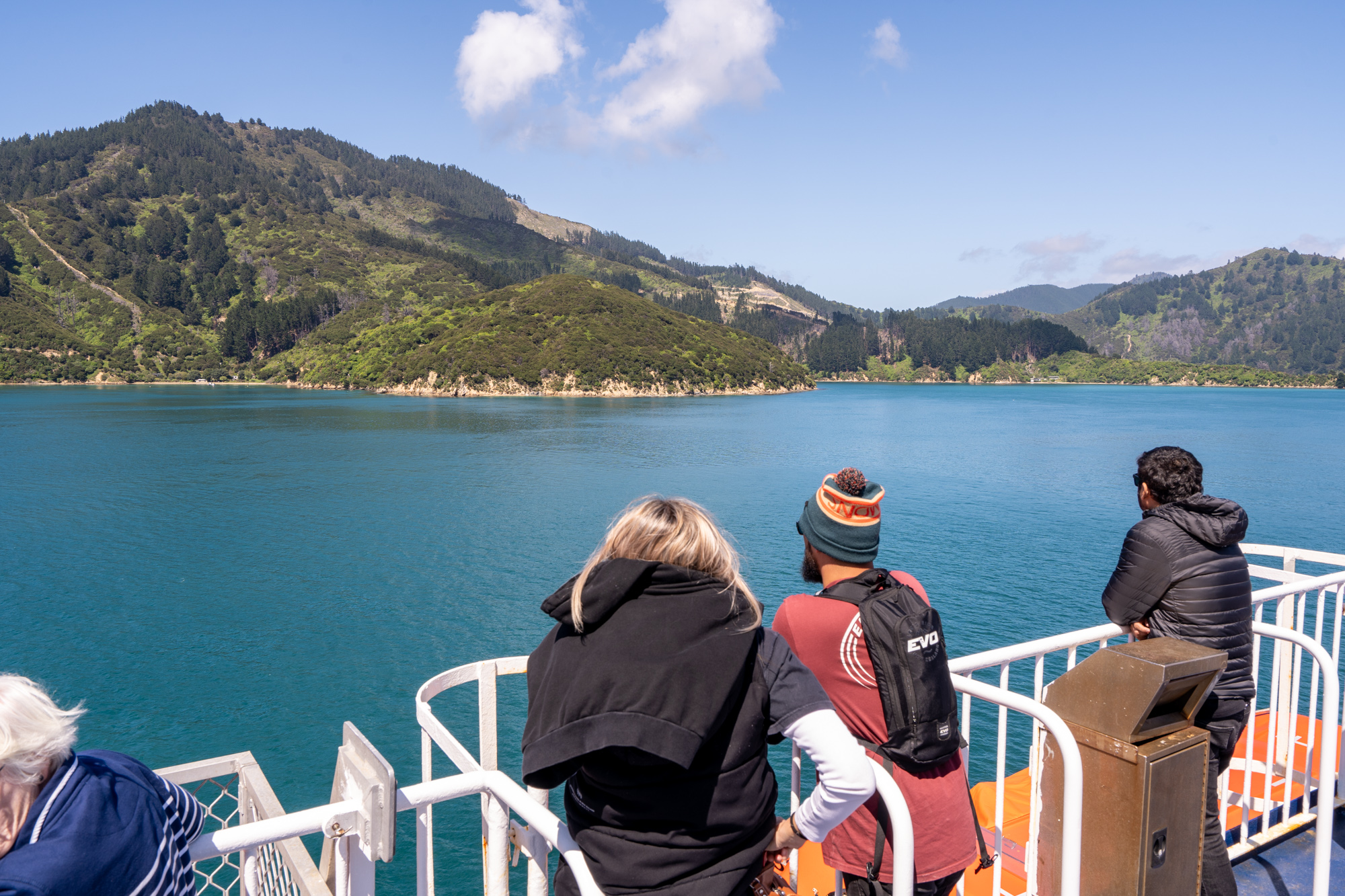 Other facilities
Here are some of the other facilities available on Kaitaki to ensure your journey is as comfortable as possible.
Cinema
Why not take time out to enjoy a movie? Or perhaps send the kids off to watch one whilst you sit back and relax!
Kaitaki has two cinemas on Deck 2. The titles are chosen daily and information, tickets are available from reception on Deck 7.
Bands on Board
We love a bit of live music on board and bands and artists can travel for free in exchange for putting on a show for us in the Local Heroes bar. We do of course vet the applicants - but not too harshly, as it all entertaining!
Are you a musician? Find out more about Bands on Board
Entertainment for Children
For children, and the young at heart, Interislander showcases a number of children's entertainers performing on selected sailings during the summer school holidays.
Stay connected onboard with our free WiFi. We have upgraded our WiFi especially for this busy summer season. You will now get good coverage across Te Moana o Raukawakawa Cook Strait.
You can use up to 500MB which is enough to check your emails, read the latest news and post on social media. If you want to watch a movie or your favourite TV show, download it before you come onboard.
You can even access it in the terminals. You will need to set up an account the first time you use it.
Kaitaki has a dedicated smoking area outside on Deck 7. Smoking is forbidden in all other areas of the ship.
Kaitaki has lifts to take you from the car decks to the passenger area and the lifts can also take you between Decks 8 and 9. There are ramps and handrails. Accessible toilets are available - just ask our crew for directions.
Find out more about accessibility on all three of our ferries