Boutique Hotels in Wellington
In the heart of New Zealand's capital city, Wellington, lies a collection of boutique hotels waiting to be explored. These exceptional accommodations offer a blend of luxury, style, and personalised hospitality that redefine your travel experience.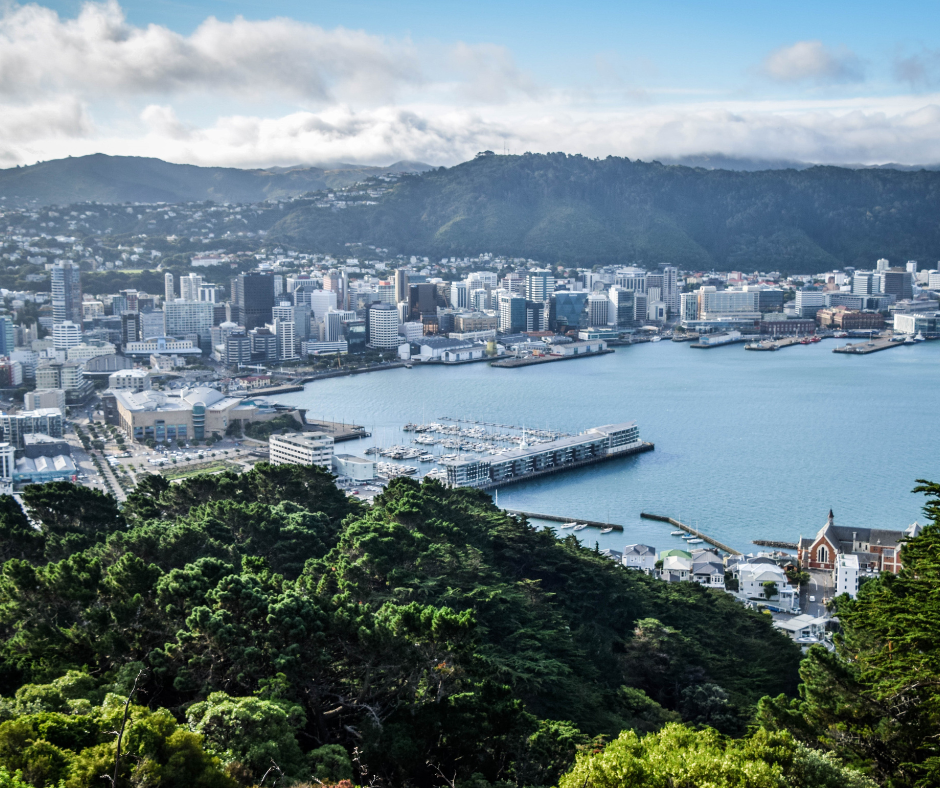 Join us as we embark on a journey to uncover the elegance and charm of Wellington's boutique hotels.
What's Wellington known for?
Wellington is celebrated for its rich cultural scene, highlighted by renowned museums and theatres. This vibrant city is a culinary mecca, offering diverse dining experiences and exceptional seafood. It also proudly holds the title of the country's coffee capital, attracting coffee aficionados from far and wide.
Wellington's infamous winds add an adventurous edge to its charm, while its status as "Wellywood" showcases its significant role in the film industry, drawing film enthusiasts to explore its cinematic connections.
What's the best way to get to Wellington?
At Interislander, we believe that the journey to your destination should be as remarkable as the destination itself. That's why we're proud to offer one of the most popular and scenic ways to reach Wellington, New Zealand's vibrant capital.
Our iconic Interislander ferry service operates between Wellington on the North Island and Picton on the South Island, promising travellers an unforgettable voyage through the breathtaking Marlborough Sounds.
What's the difference between a hotel and boutique hotel?
You may wonder, what distinguishes a boutique hotel from a standard hotel? While both offer comfortable accommodations, boutique hotels offer a uniquely personalised touch that sets them apart. These establishments prioritise the art of individualised service, distinctive design, and an intimate ambiance that larger, conventional hotels often lack.
Think of boutique hotels as the boutique shops of the hospitality world, where attention to detail, a warm personal touch, and a one-of-a-kind atmosphere take centre stage. So, if you're seeking a stay that's not just comfortable but also memorable, boutique hotels are where you'll find that distinctive magic
Boutique hotels in Wellington show off Wellington's quirky and creative personality. They're full of surprises!
Boutique hotels in Wellington
Prepare to discover a curated collection of boutique hotels in Wellington, each embodying a unique blend of luxury and charm. These are our top picks, promising an exceptional stay in New Zealand's vibrant capital.
Naumi Hotel
Nestled amidst the vibrant ambience of Cuba Street in Wellington, Naumi Hotel is an undisputed gem. This boutique hotel offers an oasis of colour and art that promises to elevate your stay in the capital city. With its contemporary design and artistic flair, Naumi Hotel is not just a place to rest; it's an experience in itself.
Upon entering, you'll be greeted by a meticulously designed interior that seamlessly blends modern aesthetics with unique artistic elements. Each room at Naumi Hotel is a work of art, featuring thoughtfully chosen furnishings and decor that create an inviting and stylish atmosphere. The attention to detail is evident in every corner, from the carefully selected artwork to the plush furnishings that ensure your comfort.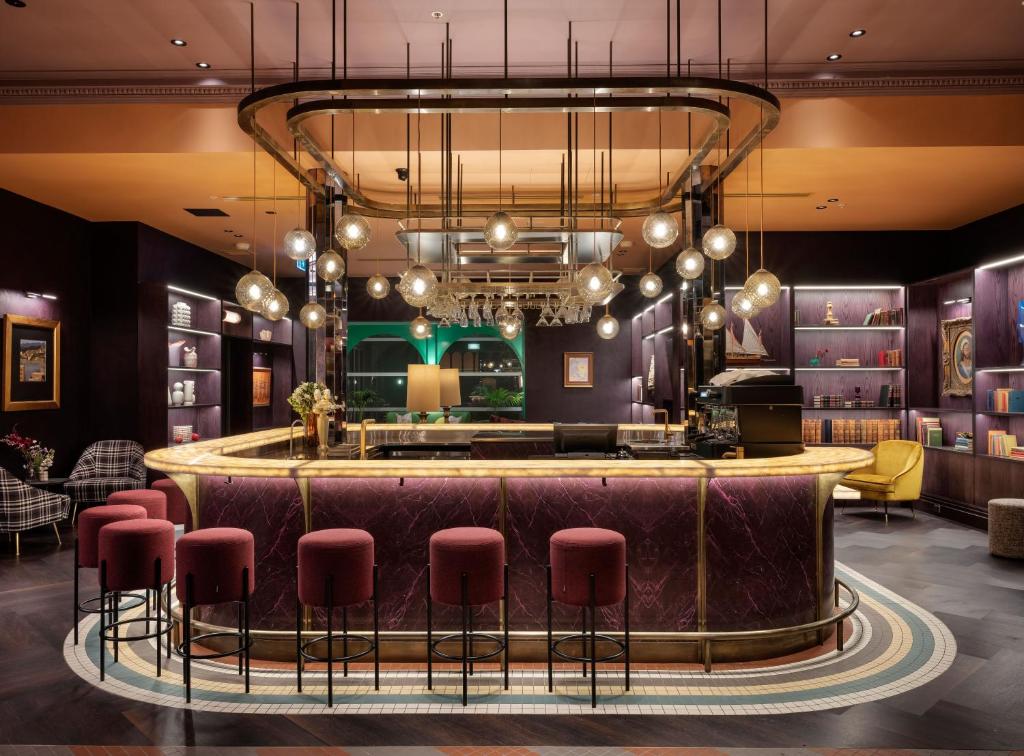 Beyond its captivating design, Naumi Hotel boasts a prime location. Situated on Cuba Street, it's mere steps away from boutique shopping, delectable restaurants, and the city's vibrant cultural scene. A short walk will take you to the picturesque waterfront, where you can enjoy leisurely strolls and stunning views of Wellington's harbour.
Naumi Hotel's commitment to guest satisfaction extends to its exceptional service. The attentive and friendly staff are always on hand to cater to your needs, whether it's arranging for special requests or providing local recommendations to help you make the most of your Wellington experience.
For those seeking a boutique hotel experience that transcends the ordinary, Naumi Hotel sets the bar high. It's a place where every moment is infused with luxury, style, and the promise of a memorable stay in Wellington.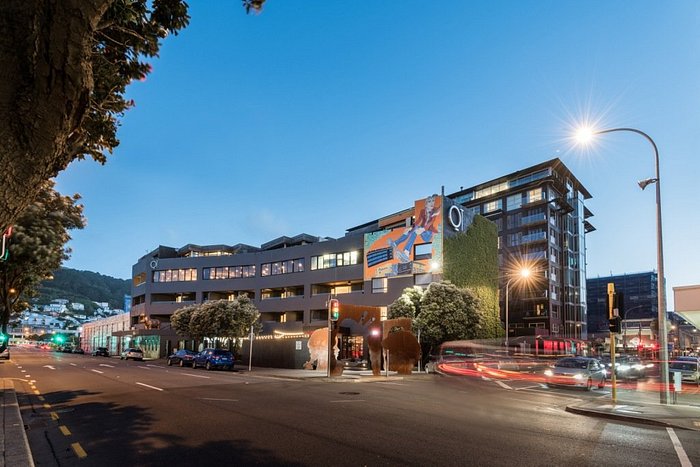 QT Hotel
Welcome to QT Hotel Wellington, where modern design meets vibrant storytelling. Located on Wakefield Street, just a leisurely stroll from the waterfront, this boutique hotel is not just a place to stay; it's a destination in itself. It's pretty hard to miss, given there's a giant bronze hippo on the roof.
The moment you step through the doors of QT Hotel Wellington, you'll be transported into a world where art, culture, and style converge to create an unforgettable experience. The interiors of this hotel are a visual feast, offering an eclectic mix of design elements that surprise and delight at every turn.
Each room at QT Hotel Wellington is a canvas of creativity, featuring bold decor choices, unique furnishings, and an unmistakable sense of fun. From the moment you step inside, you'll realise that this is no ordinary hotel; it's a place where the city's soul comes alive.
But QT Hotel Wellington is more than just its captivating design. It's also a place where you can immerse yourself in the local culture. The restaurant at QT showcases the finest of Wellington's culinary scene.
The hotel is ideally located, allowing you to explore Wellington's vibrant arts scene, world-class dining, and bustling nightlife. And when you're ready to unwind, the stunning harbour views from your window provide a sense of serenity that's the perfect counterpoint to the city's energy.
Bolton Hotel
Bolton Hotel stands as your urban retreat in the heart of Wellington, where modern comfort and convenience blend seamlessly to offer a memorable stay. Located in the central district, just a stone's throw away from Parliament and other key attractions, this is the ideal choice for both business and leisure travellers.
As you step into Bolton Hotel, you'll immediately appreciate the contemporary design and welcoming atmosphere.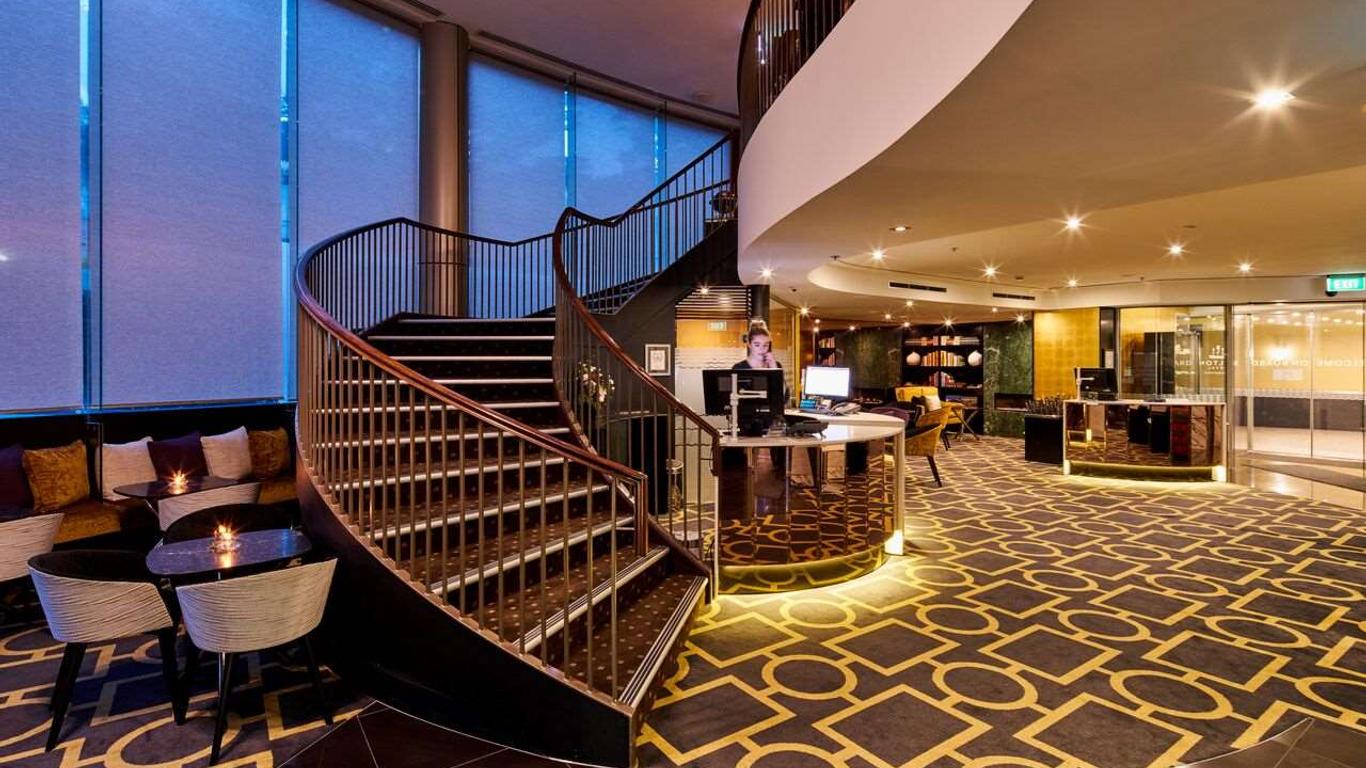 The hotel's spacious rooms are designed for your comfort, providing a relaxing haven amid the bustling city. Whether you're here for business or pleasure, you'll find that Bolton Hotel offers everything you need for a comfortable stay.
The location of Bolton Hotel is a key advantage. It places you within easy reach of Wellington's cultural and historic attractions, as well as its thriving dining and entertainment scene. Whether you want to explore the city's vibrant arts scene, visit museums, or dine in world-class restaurants, you're just moments away.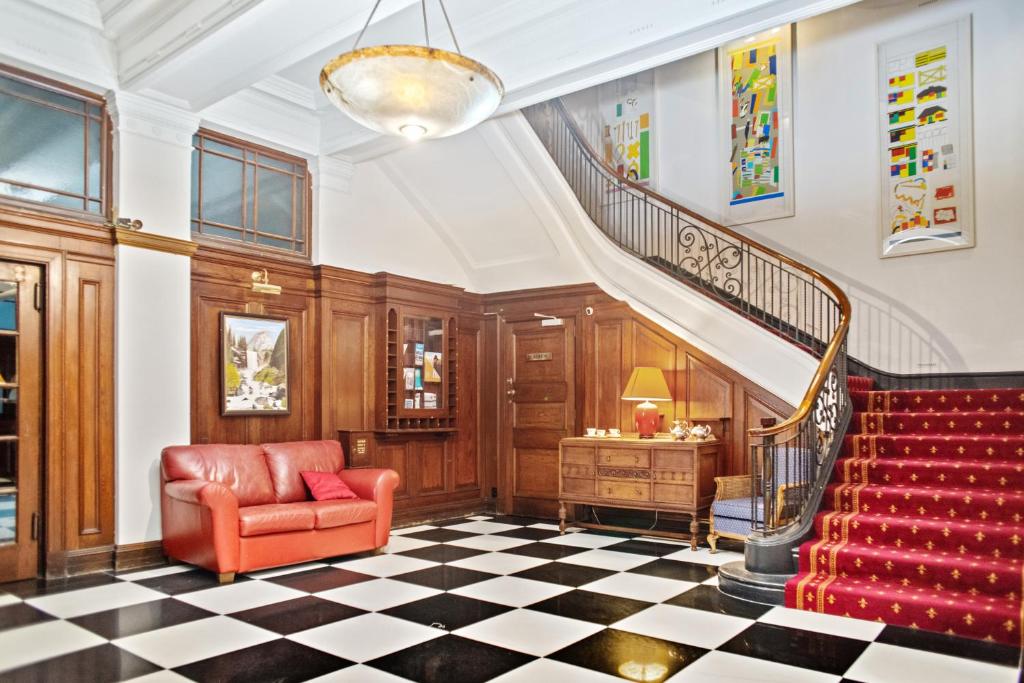 Wellesley Boutique Hotel
The Wellesley Boutique Hotel invites you to step back in time and experience the elegance of a bygone era. Nestled in Lambton Quarter, just a short walk from the waterfront, parliament, and premier shopping destinations, this heritage building-turned-hotel offers a charming and sophisticated atmosphere.
The moment you enter the Wellesley Boutique Hotel, you'll feel like you've embarked on a journey through time. The building's rich history is beautifully preserved, evident in every architectural detail and tasteful decor choice.
This commitment to maintaining its heritage while offering modern comforts creates an ambience that's truly unique.
Each room at the Wellesley Boutique Hotel is a testament to classic elegance. From the furnishings to the linens, no detail is overlooked. You'll find that your stay here is not just comfortable; it's a step back in time to a more refined era.
While the hotel offers a sense of serenity and escape, its central location places you at the heart of Wellington's action. Premier shopping districts, world-class dining establishments, and cultural landmarks are all within easy reach. And when you return to the Wellesley Boutique Hotel after a day of exploration, you'll be greeted by attentive and friendly staff who are dedicated to ensuring your stay is as pleasant as possible.
For travellers seeking a blend of historical charm and modern comfort, the Wellesley Boutique Hotel offers a truly exceptional experience in the heart of Wellington.
Ohtel
Ohtel stands as a sleek and contemporary retreat on Wellington's picturesque waterfront. This boutique hotel provides a serene escape while remaining conveniently close to the city's attractions, offering a refreshing twist on traditional boutique accommodations.
The minimalist aesthetic of Ohtel creates a sense of calm and simplicity from the moment you arrive. The clean lines, uncluttered spaces, and attention to detail are all part of what makes this hotel a refreshing choice for travellers seeking modern comfort.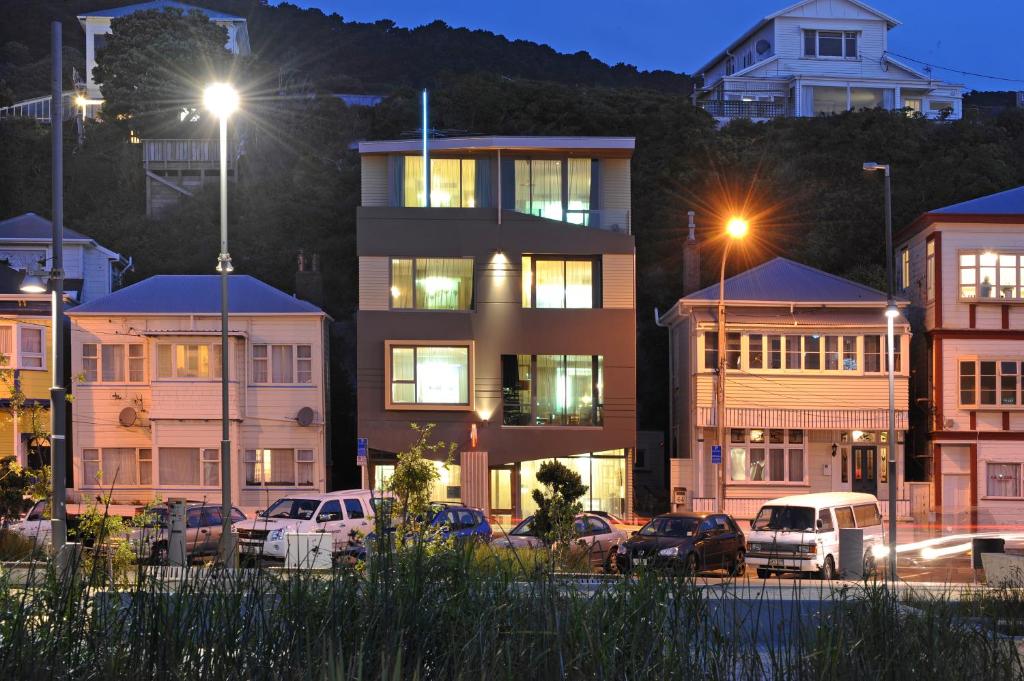 Each room at Ohtel is a study in contemporary design, featuring furnishings and decor that prioritise both style and functionality. You'll find that the sleek design elements are complemented by comfortable furnishings, ensuring that your stay is both visually pleasing and physically comfortable.
Location is a key highlight of Ohtel. Situated on Wellington's waterfront, it provides easy access to the city's attractions, from cultural landmarks to scenic waterfront walks. This makes it the perfect choice for those who want to explore the city with ease.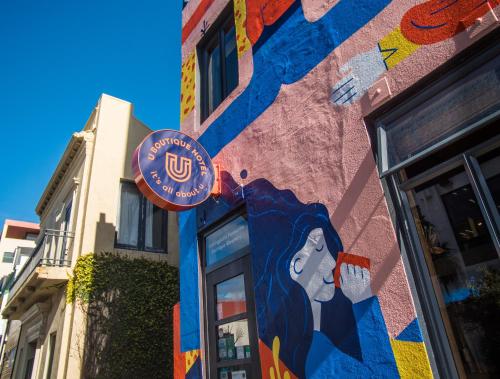 U Boutique Hotel
Welcome to U Boutique Hotel, your cosy and intimate retreat in the heart of Wellington. Tucked just off Tory Street, near the vibrant Courtenay Place, this charming hotel offers a warm and welcoming environment that's perfect for travellers seeking a comfortable and inviting atmosphere.
As you step into U Boutique Hotel, you'll immediately sense the welcoming ambience that sets it apart. The personalised service and stylish decor combine to create an atmosphere that feels like a home away from home. Whether you're a weary traveller or a visitor eager to explore Wellington, you'll find U Boutique Hotel to be a warm and inviting haven.
Each room at U Boutique Hotel is designed with guest comfort in mind. The furnishings are chosen not just for their style but also for their functionality. You'll discover that this hotel is not just about aesthetics; it's about ensuring that you have a comfortable and enjoyable stay. U Boutique is a great option if you're looking to save costs on accommodation, and splurge on other fantastic Wellington activities.
U Boutique Hotel's central location is another highlight. It places you in the heart of Wellington, just moments away from the city's vibrant attractions, including restaurants, nightlife, and cultural landmarks. Yet, despite its central location, the hotel provides a sense of peace and tranquillity that's perfect for unwinding after a day of exploration.
Ready to experience boutique hotels in Wellington?
As you plan your visit to this culturally rich and picturesque city, don't miss the opportunity to make your stay as memorable as the destination itself. Book your Interislander journey to Wellington now and get ready to indulge in the unique charm of boutique accommodations that await you.