Interislander: Magic at Sea
Looking for school holiday ideas to keep the kids happy? Between the North and South Islands, there's plenty to explore.
So why not hop on an Interislander Ferry and start your family trip on the right foot.
Over 30 years of magic...
There's something to keep you busy for every minute of the 92-kilometre Interislander journey. From excellent service and fun entertainment to stunning sights and delicious food, travelling on Interislander is a guaranteed summer highlight. But the undisputed fan favourite is Nigel the Magician.
Every year, we have stacks of guest entertainers keeping everyone smiling throughout the trip across the strait. But one show-stopping favourite is Nigel Kennedy, an all-powerful and wildly entertaining magician who's been a summer staple on Interislander for over 30 years. To celebrate this momentous anniversary, here's the story behind one of Interislander Ferry's most iconic entertainers.
Before the stage
Like many exciting careers on the stage, performing magic started as a simple hobby for Nigel. In fact, after finishing school, Nigel had actually set out to study as a funeral director. But after spending his teens as an assistant in the field, he eventually tried his hand at finance. But how did he go from a straight and safe industry, to the colourful day job he's had for the last 30 years and counting?
Kennedeli's Magic Show
At just seven years old, Nigel first fell in love with magic after he was gifted the 'Secrets Of Magic' book for his birthday. Intrigued, he saved up his pocket money and bought the 'Hanky Panky Magic Set'. To show off his new tricks, he'd put on fabulous shows called 'Kennedeli's Magic Show' in his parents garage for the neighbourhood.
As he got older, his fascination with magic grew, and he found the now inoperative Wellington Society of Magicians. To get into the club, "you had to be 14 years old to join and perform a short show for the committee." It was a community of mentorship and encouragement, helping him refine his act and performance persona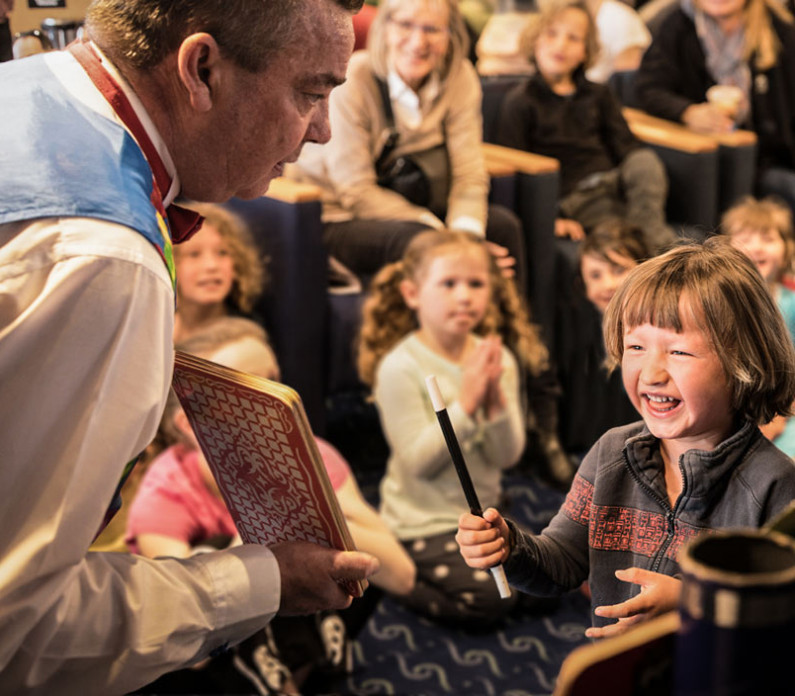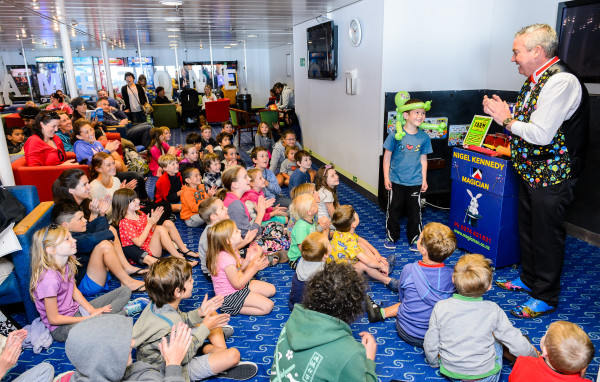 Onboard: The beginning
Thirty years ago, Nigel was working at the Canterbury A&P Show, when he got an urgent phone call from a fellow magician, Brian Strong. He'd phoned with the news that Interislander needed a performer and suggested Nigel contact head office ASAP.
One meeting and audition later, Nigel was booked for his first summer season. And the rest is history – an arrangement that's succeeded some of the ferries themselves.
There's no age limit on magic
Thanks to the popularity of Harry Potter and impressive magic performances appearing on shows like America's Got Talent – Nigel says "magic is as popular as ever."
He suggests aspiring magicians should see if their region has a magic club, with a junior section for children. His biggest piece of advice?
"Practise, practise, practise! And the best way to practise is in front of a mirror to view the trick as the audience would see it."
"Often aboard, you'll see just as many adults watching as children, with laughter on their faces and wonderment in their eyes!"
It's showtime
Nigel's show is perfectly timed to start about an hour into the journey when the buzz of Wellington harbour has passed, and the Sounds aren't yet in sight. Running for about 40 minutes, the show is made up of several acts. And an assistant from the audience is called on stage for each one, to help him perform the trick. Packed full of laughs and moments that wow, even after 30 years, no show is ever the same.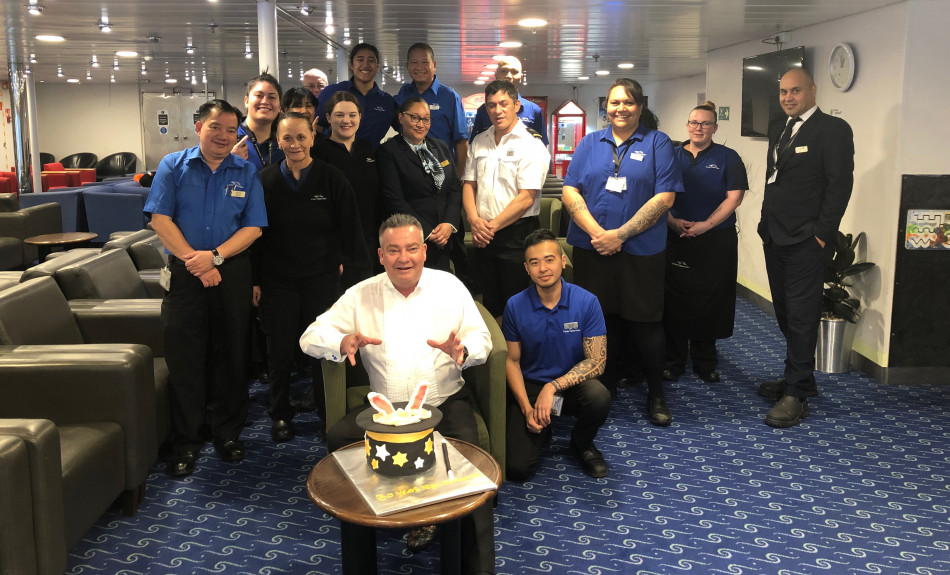 Endless entertainment on Interislander
Getting from one island to the other on Interislander makes travel with kids easy. Whether you're into shows in the theatre, lounging on the deck, games in the play area or breathtaking scenery, each of our three ships have stacks to keep you and the family busy.
So if you're looking for things to do in New Zealand with the kids, and your trip is taking you between the North and South Island, why not book a spot on Interislander? We've seen thousands of memorable family holidays kickstart on a trip across the Cook Strait with us. Now it's your turn.