Lashing points for large vehicles
Most vehicles carrying a load of more than 3500 kilograms must be fitted with approved lashing points. 
Lashing points are used to secure the vehicle to be lashed to the ferry deck to prevent movement at sea - particularly when it is rough.
Some vehicles are exempt from this requirement:
Road freight, road tank and road livestock vehicles that are not intended for transport on roll-on/roll-off ships but are being freighted for delivery purposes only without payload
Passenger vehicles including cars, mini-buses, coaches, buses, motorhomes, caravans and horse trucks
Oversize vehicles
Railway wagons
Special vehicles including fire engines, tow trucks, car transporters, ambulances, horse floats or vehicles specifically designed to transport horses, boat trailers.
All other vehicles must comply.
Read more about the carriage of heavy vehicles on the Maritime New Zealand website.
If you have any questions, please call the Interislander freight team on 0800 660 670.
Lashing point requirements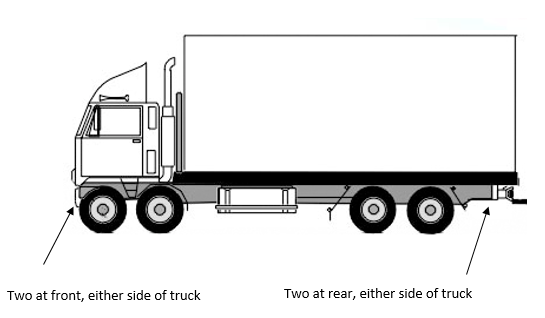 No lashing points
If you are travelling with a vehicle that has no lashing points, we do ask you to be prepared for the following:
Sailing may be approved if suitable tie down areas can be found.

Travel will be at the discretion of the ship's master

If suitable tie down areas cannot be found, and sea conditions are rough, we many need to transfer you to another sailing when conditions have improved for safety reasons.
Please be assured we will do our best to accommodate your vehicle, but ensuring it can travel safety is our top priority.