Clipping her wings but growing sea legs – from aviation to maritime
Kimberly is always pushing the boundaries for customer service on board Aratere, a significant shift from assisting passengers 30,000 feet in the air only two and a half years ago.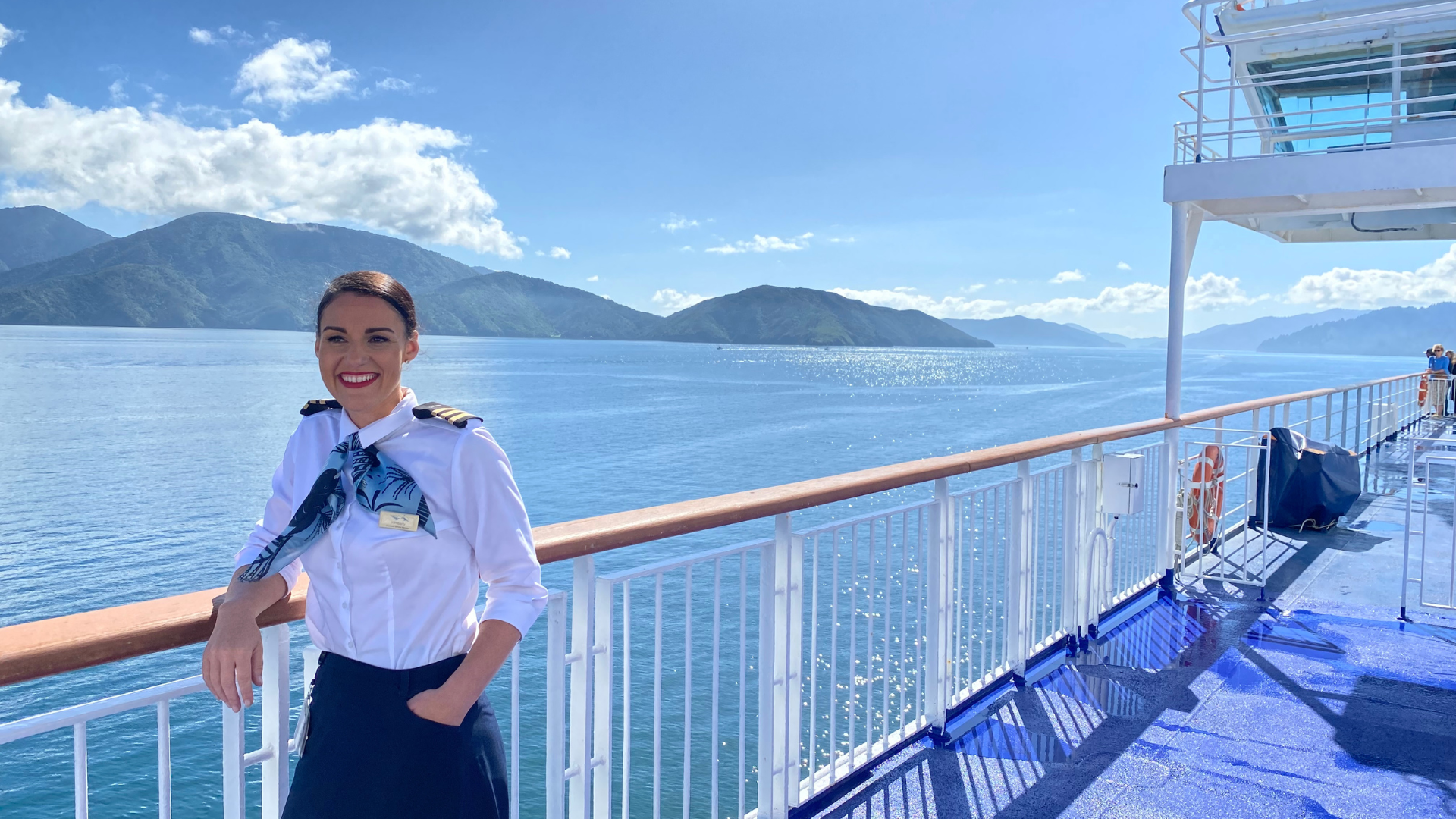 Aratere Customer Services Manager Kimberly has spent two decades honing her skills and expertise in the travel industry, and it all started when she was invited on board the Interislander aged 11. "I spent my entire childhood with my father being gone for seven days at a time, as he was a Marine Electrician on board Interislander for 42 years, so it's rather ironic that this is now my life! As a child, I was offered the opportunity to come on board at weekends and school holidays and they gave me a polaroid camera and cards with the Interislander on the front. I would walk around the ship and people would donate money to charity to have their photo taken on the bow of the ship."
After Kimberly finished high school in Marlborough, she worked for Etihad Airways and Virgin Australia, and she was convinced that the airline industry would offer her a lifelong career. When the COVID-19 pandemic hit, however, Kimberly lost her job in aviation, and she was devastated. "It was a really difficult time in my life, but I had to keep going, so I turned the alerts on for all the big companies in New Zealand and, sure enough, the Customer Services Manager for Interislander showed up in my inbox – and the rest is history."
There are aspects of the aviation industry that Kimberly misses, including the opportunity to see so much of the world and all the amazing destinations that were right on her doorstep.
"It was a huge change for me as I am no longer in a different city each week, but there are also so many similarities. Both jobs are all about customer service, travel, transportation and safety. I've gone from 30,000 feet in the air managing crew and dealing with customers, and the only difference is now I'm doing it on the ocean instead. Simply put – I had my wings clipped and now I've grown some sea legs!"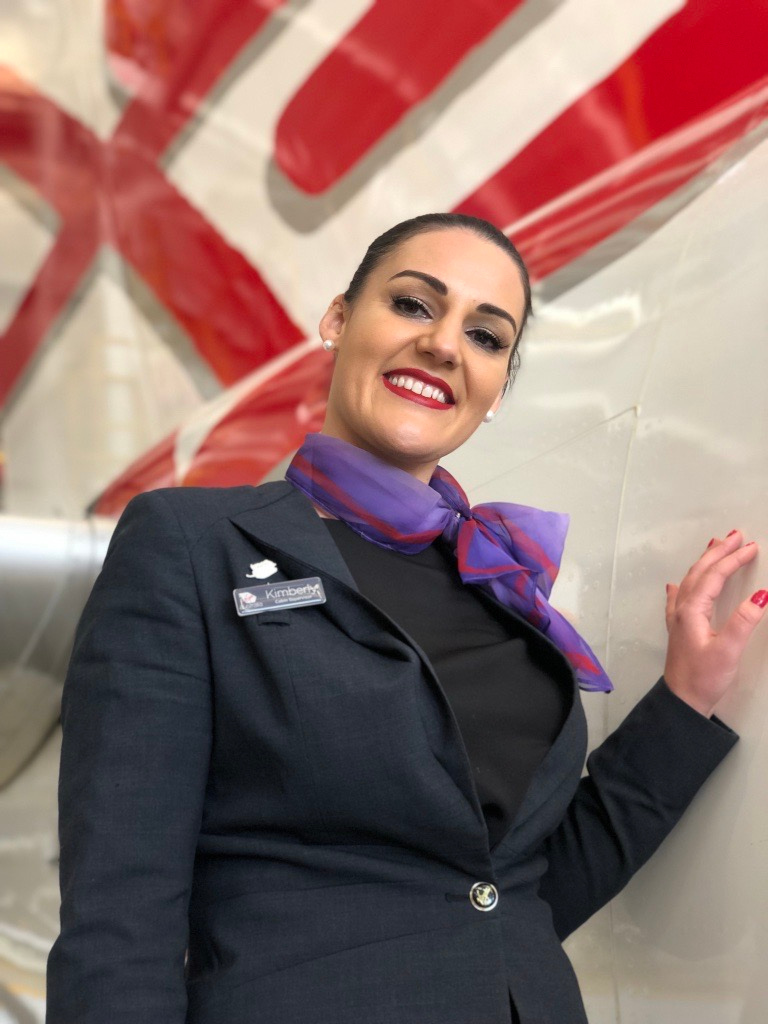 For Kimberly, the people are the most crucial piece of the customer service puzzle. She believes the key to outstanding customer service is consistency, from safety procedures to the crew's interaction with passengers. "Customers first and foremost want to feel that they're in safe hands. This means our crew need to be proficient in their safety and emergency procedures, because as soon as something happens, our passengers will look straight at them for reassurance."
Kimberly explains that because you live on board, your crew become your family in many ways. "It's like a second family. I think there are many crew – especially those who have moved from overseas – where their entire friendships are Interislander. In the end we're all working toward the same goal of keeping people and freight connected between the North and South Island."
She believes the best way to improve culture and morale on board is to recognise those who have gone above and beyond the call of duty. Kimberly regularly motivates the crew to go out of their way and ensure their passengers have a memorable journey. "We have four values in the Aratere On-Board Services department that we stick by: to be professional, to be polished, to be consistent and to be fair. As on-board managers and leaders, all our decisions and actions are based around those values."
Looking back on her journey, Kimberly encourages others who are considering a career in maritime to learn and understand that no day is the same so you must love variety, but more importantly, recognise the impact that you can have on other people's lives. For her, the sky (or the sea) is truly the limit. "You can come in young as a Cabin Attendant and, if you have the right attitude, there is absolutely no reason why you can't lead a team of twenty cabin attendants within a few years. Attitude is everything. We can train you do all the tasks required, but we can't train you to have the right attitude."
"It's like a second family. I think there are many crew – especially those who have moved from overseas – and their entire friendships are Interislander. We're all here for each other and we have each other's back, always"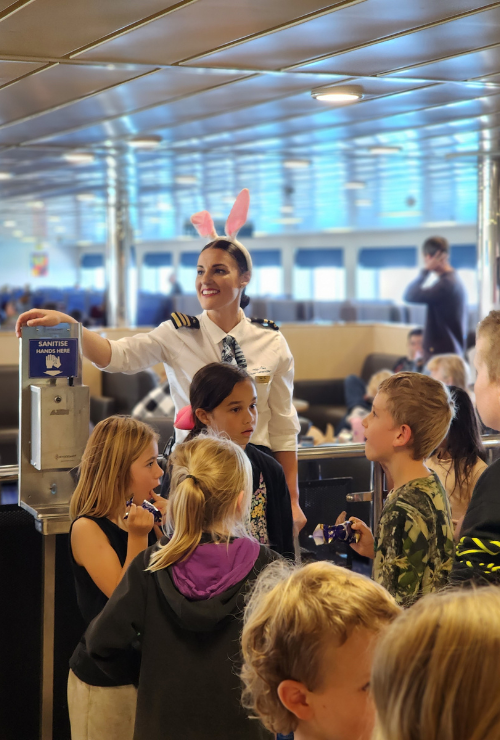 As for the future, Kimberly says that it's a really exciting time to be with the company. "How often do you get to be a part of such an iconic organisation that has been around for 60 years, and is going through this major transformation, with two state of the art, hybrid ferries on the way. What will happen after 2025 will be a completely new experience, so it's a privilege to be here and be a part of the journey."
"We have four values in the Aratere On-Board Services department that we stick by: to be professional, to be polished, to be consistent and to be fair. As on-board managers and leaders, all our decisions and actions are based around those values."
For now, however, it's business as usual for Kimberly as she continues to provide a great customer experience for New Zealanders and our overseas guests. "I was born and raised in the Sounds, but I still often look out of my office window and am in awe of how beautiful it really is. We have so many tourists now travelling with us, and it's so great to see it through their eyes as well. It makes you feel proud to be a Kiwi."